Connect with your social network account
Posts: 6
Joined: Sat Jul 04, 2015 6:41 pm
I think we all know that the T-Pose is pretty terrible to work with in MD, but we need it for rigging items for Second Life.
I saw in the comments for the Avatar Measurements video where Lori asked for a tutorial on how to get the A-Pose into MD. I thought I'd do a quick and dirty explanation.
First, I use Avastar in Blender to make the A-Pose. The arms are rotated down 45°, and the legs are rotated out 5°. I nudge the upper arms down a bit, just like Haven does in the video link I'll post below.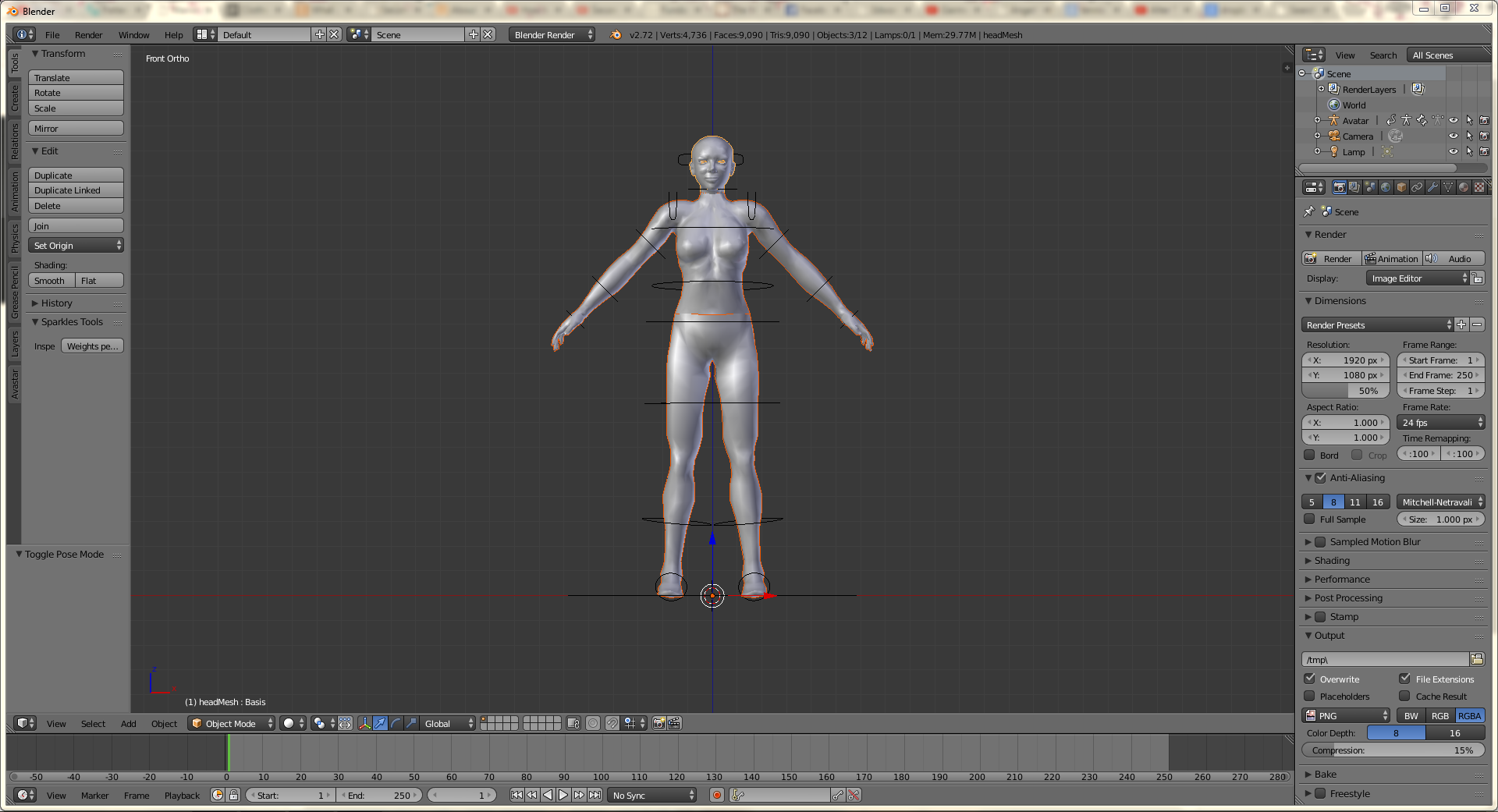 Once you have the pose you want, shift-click on the lower, upper, and head meshes and export as an .obj. Make sure you check the "Selection Only" box on Export.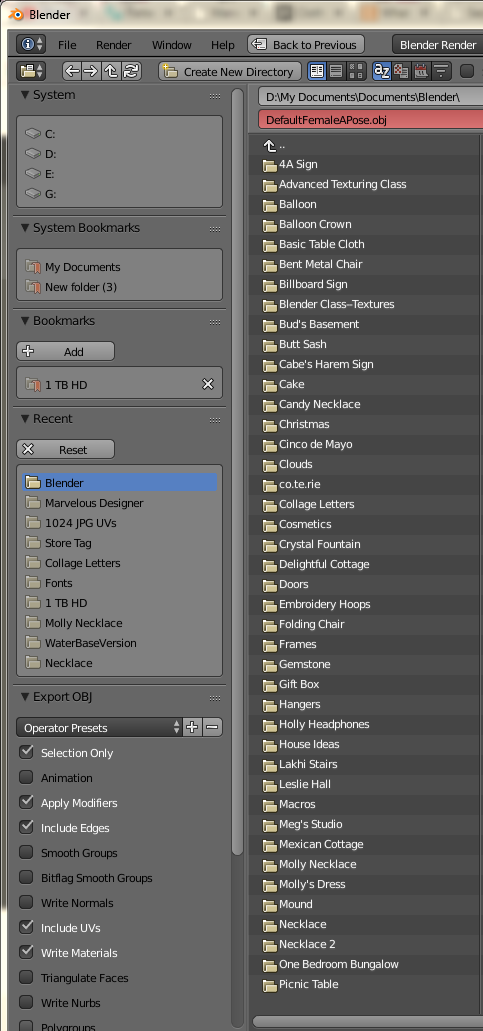 Bring in your .obj into MD by using the Import Feature. You'll want to indicate that it is an avatar, and make sure that the m (meters) radio button is checked.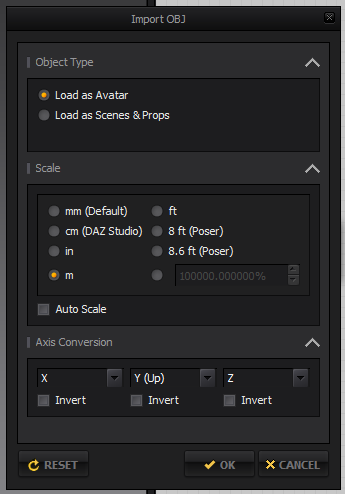 Now that your avatar is in the 3D window, you'll need to set up the bounding volumes and arrangement points. Doc Tokyo made these for us (yay!), and they can be downloaded here:
https://docs.google.com/file/d/0B2oe5D7 ... sp=sharing
These are for the T-Pose, mind you, so you'll need to tweak them a bit for the A-Pose. Let's start by adding the Bounding Volumes, and the Arrangement Points should follow.
Click on the A-BV tab in the Object Browser window on the right. You want to OPEN a file, so click that button and navigate to where you unzipped the Doc Tokyo files. Select the relevant sex (male/female) AVB.pan file and choose open.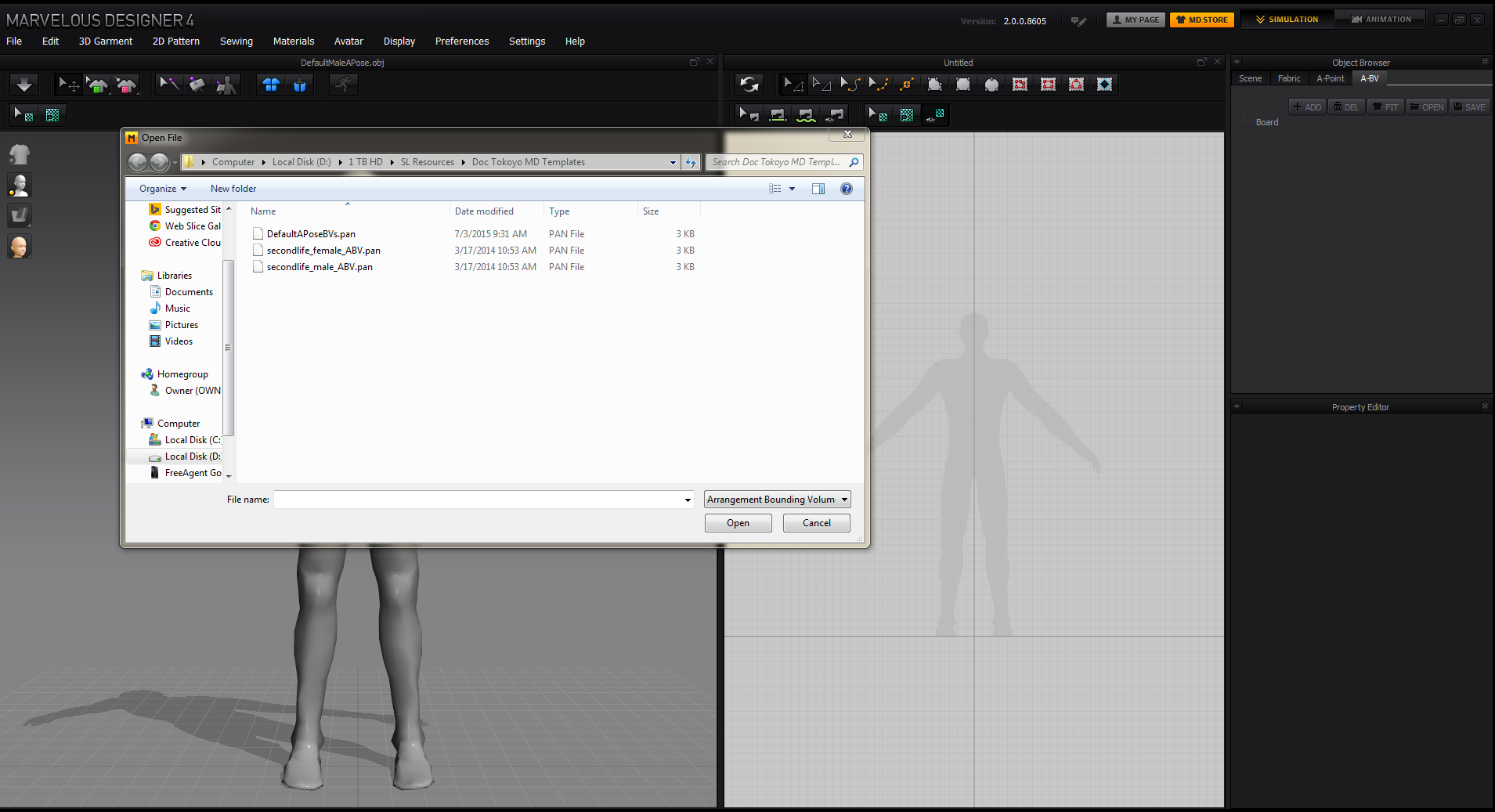 If you turn on the bounding volumes, you should see them arranged in the T-Pose still. Don't move anything yet!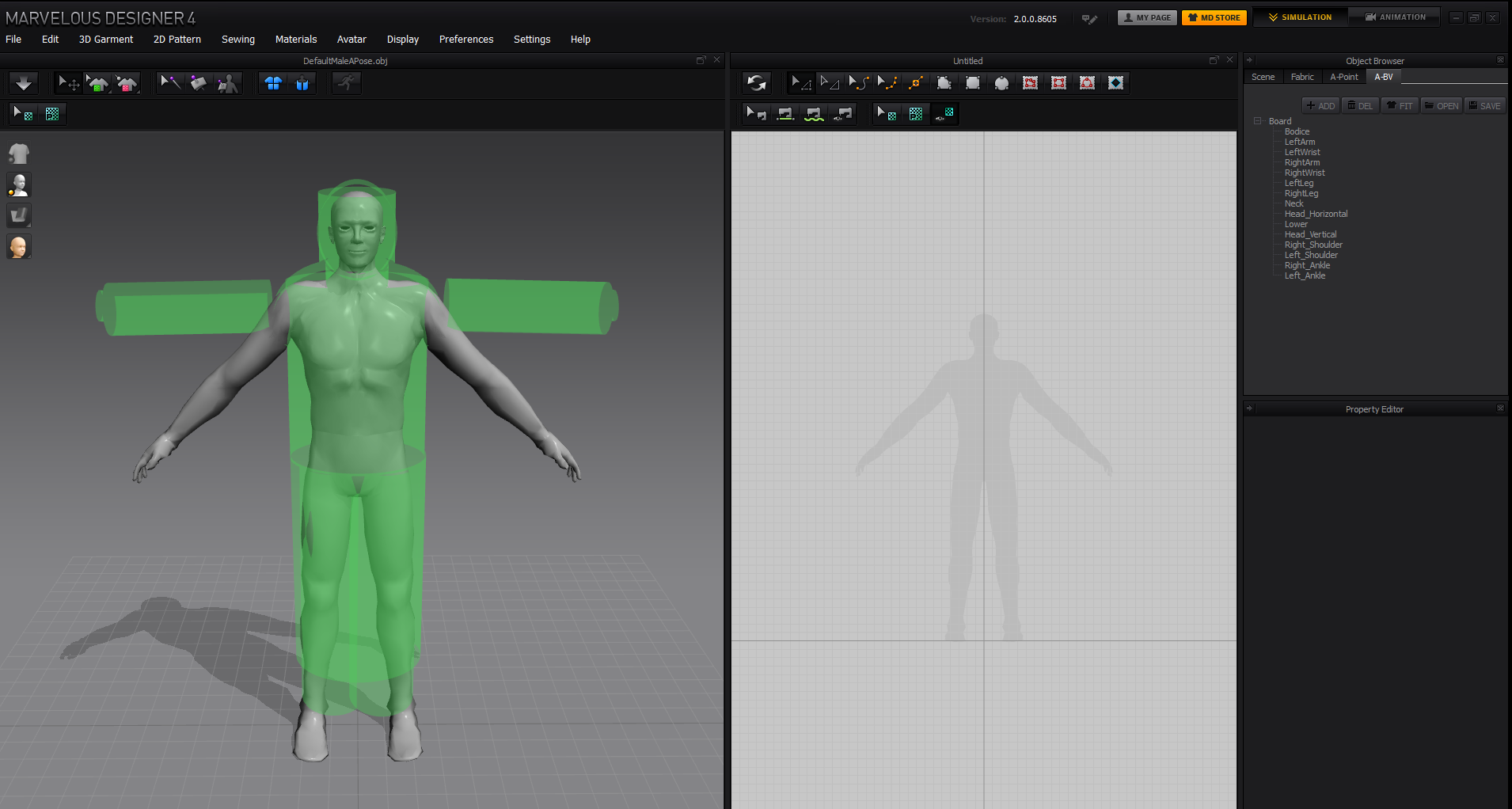 In the Object Browser window, click on the A-Point tab. Again, choose OPEN, and choose the AP.arr file that corresponds to your avatar. Choose Open.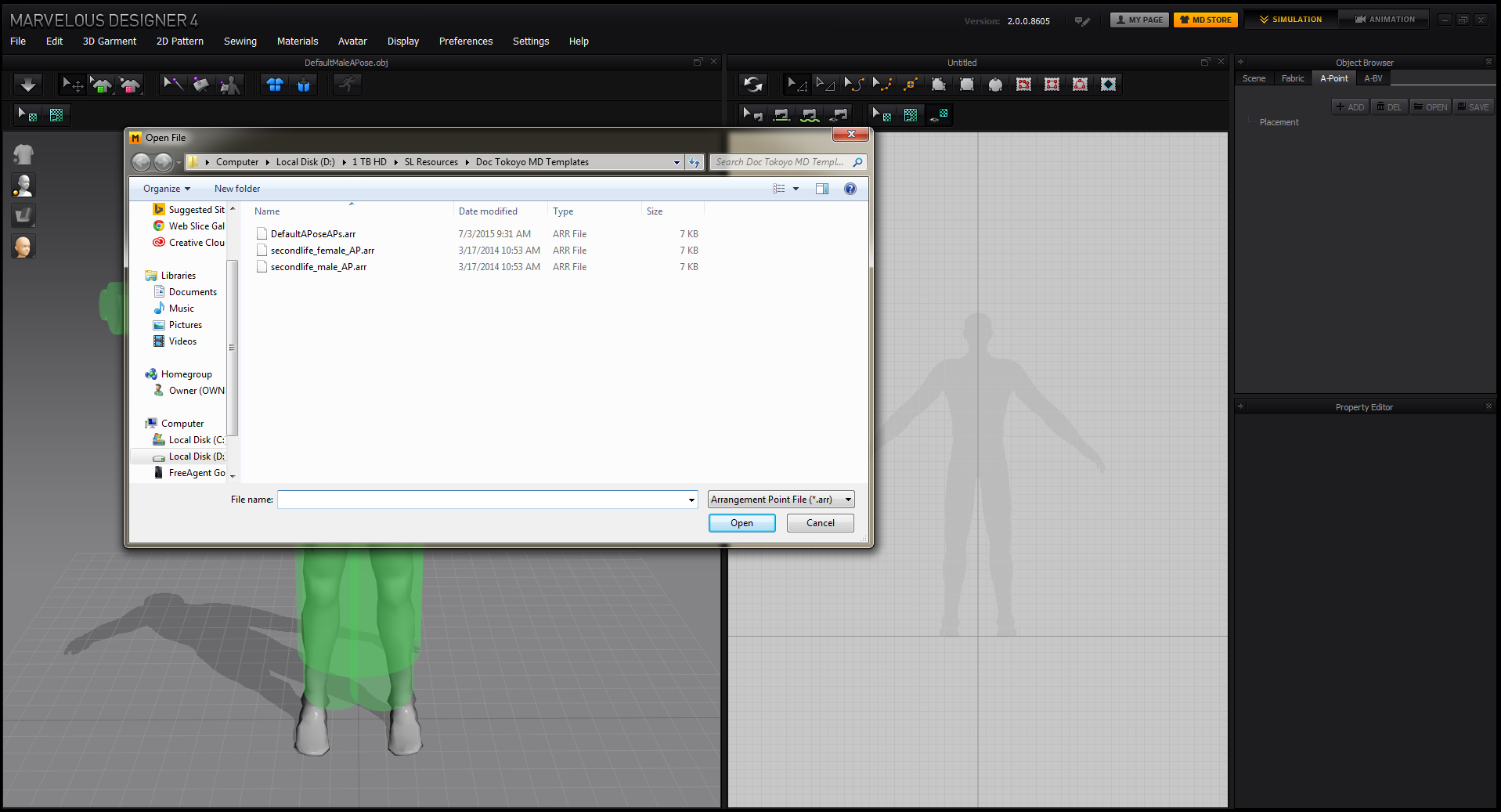 Now, you should be able to turn on the bounding volume and the arrangement points and see them on the avatar.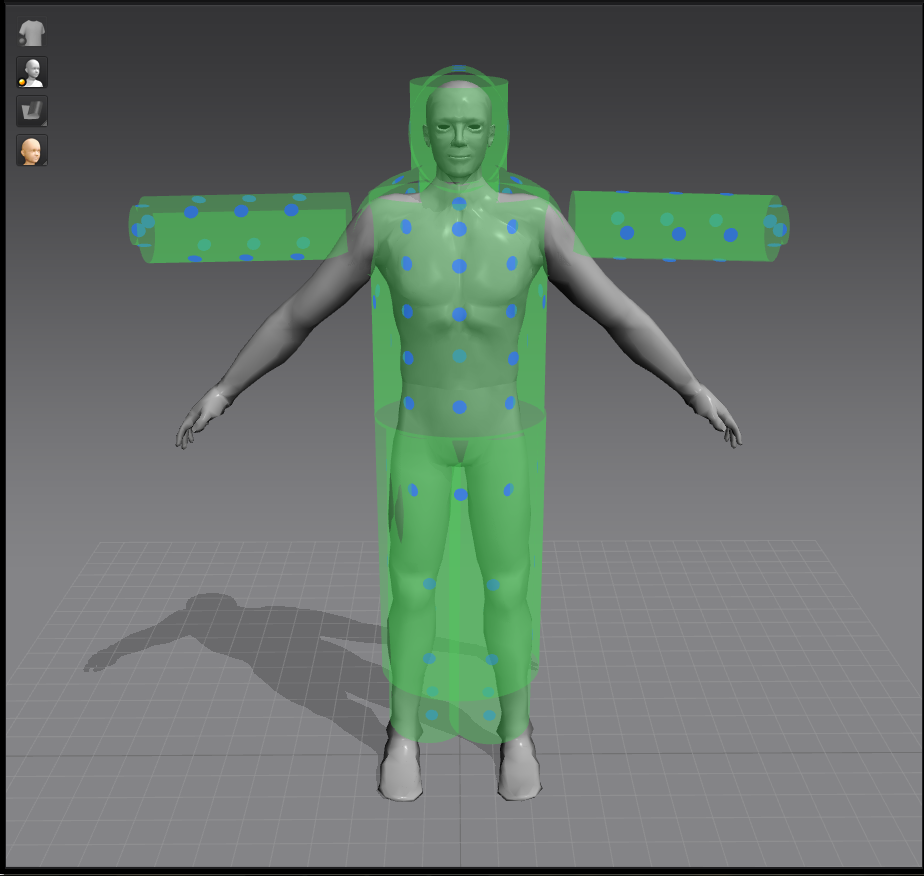 I turn off the arrangement points so that I don't accidentally select them.
Starting with one side, I select both the arm and wrist bounding volumes and rotate them to align with the arm. You'll notice that the wrist doesn't quite line up with the arm, but at least the rotation will be the same. Just drag the wrist down where it should be after you've made the initial rotation and alignment.
Repeat for the remaining arm and the legs. Don't forget the ankle bounding volumes like I did.
Once you've got the bounding volumes rotated, you can turn on the attachment points. They should move right along with the bounding volumes. In this pic, I turned off the bounding volumes so you could just see the arrangement points.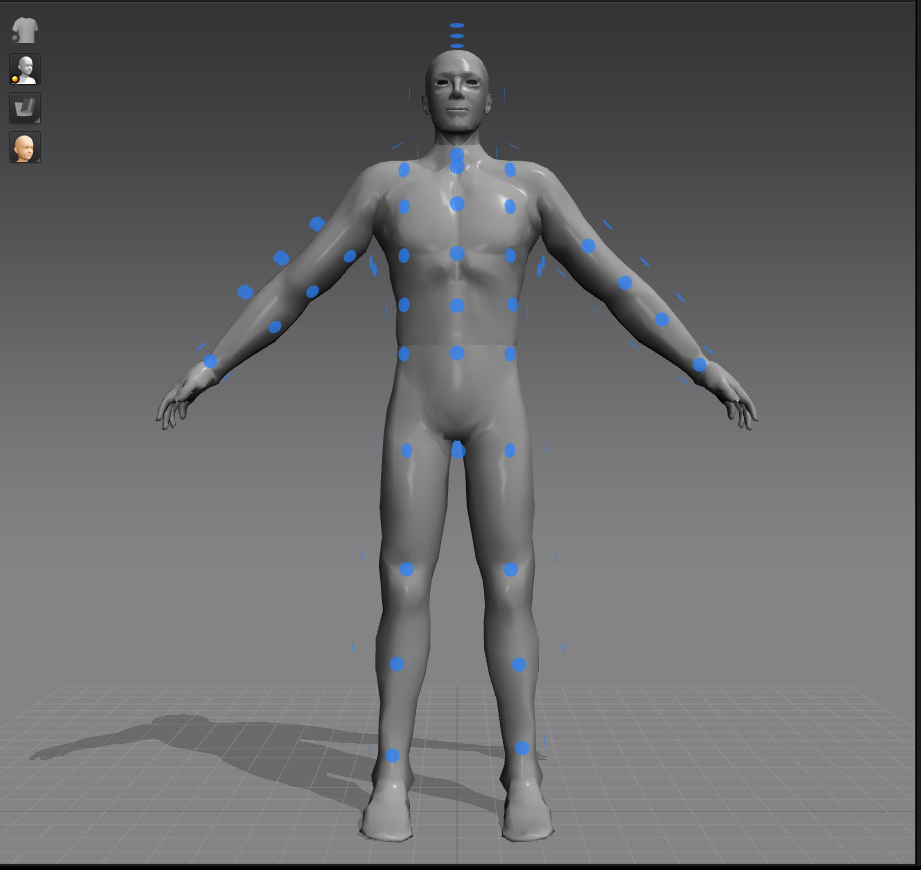 I save out the new bounding volumes and arrangement points so that I'll have them in case bad things happen. With all of this work done, I now save this as a Project File so I can have a fresh canvas when I need it. If you'd like to download my files, I've put them in my Dropbox here
https://www.dropbox.com/sh/4x5ii999o7o3 ... O3wLa?dl=0
Once your clothes are made and ready for rigging, Haven Ditko has an excellent video on how to get those clothes snapped back into the T-pose for rigging.
https://www.youtube.com/watch?v=OcENa4IfO3c
I hope this makes sense & is helpful.
Edit: I couldn't the the image tags to work, so I changed everything to url links for the pictures.
Last edited by
Megan Halley
on Thu Jul 09, 2015 5:40 pm, edited 4 times in total.
---
Posts: 369
Joined: Mon Jun 08, 2015 4:39 pm
Wow, thanks for sharing such detailed instructions for everyone. That will be very helpful.

Can you tell me what issues you had with the image tags in your post? I want to make sure the forum is working for everyone.
---
Posts: 6
Joined: Sat Jul 04, 2015 6:41 pm
It was just a user error. I used gyazo as an image host, but I didn't put the image URL between the URL tags. I put the *website* URL in there, which obviously gives me the broken image graphic.

Awesome, now I can clean up my previous post!
---
Posts: 9
Joined: Sun Aug 30, 2015 8:37 am
Location: Australia
Thanks Megan Halley that was a big help, it was annoying me that I couldn't use that feature with my SL avatar

What size is the female? I generally was bringing in the medium size to work on, I guess it doesn't matter because I will have to resize for the other avatar sizes.
---
Posts: 1
Joined: Tue Mar 14, 2017 2:04 am
---
Posts: 2
Joined: Sat Jul 01, 2017 6:07 am
Hi! Okay, I think I made a very stupid mistake. And this is very urgent.
I have imported my character without any rigging done and finished creating the garments. When I imported, I hit auto scale, thus increasing the size by a huge amount.
Now my rigged and animated model is much smaller. I really need the animation data of the cloth from MD! But the cloth is huge in comparison to the model!
Any suggestions?
---
Greetings,

That's a very good example. It's a little bit tricky at beginning to place the ap's and bv's correctly on my slightly changed Maitreya Lara mesh body shape. I already had the A pose set via Blender, but not made ap's and bv's. Thx for the link.
I also found out the link not work in lower MD versions. I have the MV2 and MV6Ent. No subscription, just bought them completely at once. Now i'll wait till version 8 will come in future!
I also use Blender, with the Avastar and Sparkles add-onn's, and the Avatar Maker program is also great, but not have it put as add-onn in Blender yet. For other specific stuff I use the Photoshop Extended. I guess with all these it'll be good to learn make interesting clothes and tattoos to use/sell in SL.


Wig..
---